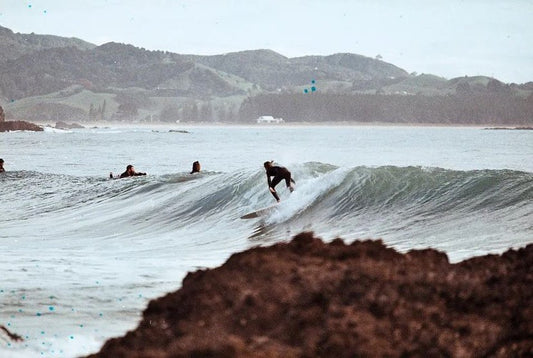 Learn the backstory to iconic Sadhana
The idea of Sadhana Surfboards was born in 1997 on a lifeguard chair, as a reaction to the mass-marketed, mediocre, one-size-fits-all approach to surfing at the time. Drawing on the daily influence that the ocean holds and utilising various garages, shaping rooms and sheds around the world, a small cottage label was formed. While those backyard days are now part of our history, it is this hand-made craft philosophy that drives us still.

Since our move to Christchurch, New Zealand in 2008, Sadhana has grown to provide one of the most comprehensive ranges of hand shaped boards to suit all styles of surfing, on New Zealand's beautiful South Island.

Building upon our own hand crafted boards, we also supply blanks, materials and tools for hand crafting your own boards.

Our retail shop, located in the historic Tannery centre, has a range of new and used stock boards, accessories, clothing, gifts and music all influenced by the spirit of surfing, aloha, and good times!

We also offer a quality board repair service, demo and hire boards, guide books and travel supplies.

Sadhana is your gateway to the classic waves New Zealand's south island has to offer.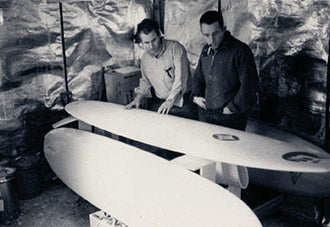 Surfing and board building is in our blood.
Our Values
Small Business
We acknowledge the integrity small businesses have towards creating a quality product that reflects alternative values, as opposed to unconscious large branding. By supporting local, we are helping to drive alternative shopping that focuses on conscious marketing.
Craftmanship
We ensure our boards and merchandise are made from high quality products, hand crafted with care and consideration for the customer. We hold the artisan experience of 35 years shaping and 72-year history in the surfing industry, dating back to the 1950's under the Jackman family name.
Sustainability
We aim to support the systems of a circular economy by reusing, repairing, refurbishing, and recycling boards, packing materials, and fabric products to reduce environmental pressures we might poses as a business. We source local products and from New Zealand companys, when possible, to limit our carbon footprint and support the ethics of small business. Ultimately, we understand that by limiting the impacts we possess on the environment, we are conserving the 'stoke' we find as surfers and keeping the waves rolling in.
Tradition
We pride ourselves on the roots of a traditional surfing lifestyle that began with Polynesian surfing in Hawaii. And acknowledge the roll Duke Kahanamoku played in shaping modern surfing from its Hawaiian roots. We consider historic shapes and designs when crafting our boards and merchandise in a hope to carry on the Hawaiian legacy into modern age surfing.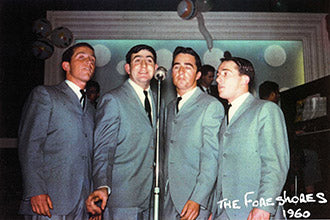 Music was a big part of our lifestyle too
Dave was to become one of the foremost pioneers of big wave surfing, after his heroics at conquering the Queenscliff Bombora, in Sydney, in Winter of 1961. The board he rode was a balsa gun around 11 feet in length, built by Joe Larkin. It was the first big wave surfboard ever built in Australia.

Dave was also a member of the first Australian Team to tour Hawaii's North Shore, featured in several Bruce and Bud Brown(e) films, as well as stuntdoubling in the 1964 Hollywood film, "Ride the Wild Surf". After moving to New Zealand in 1963 he continued his involvement in Surf Life Saving, winning numerous ironmen and individual titles as well as building surfboards and boats. He lived at Murawai Beach until he passed away on 3rd May, 2014, where he was also a life member of the surf club there and a member of the Mangawhai Heads SLSC as well.

Not to be outdone by the boys, my aunty Beth has the honour of being the first Australian Women's Champion, of which the titles were held at Avalon Beach, Sydney, in 1961. The 16 year old Beth was presented with her trophy by Isabel Letham — Duke Kahanamoku's tandem partner of the legendary 1915 surfriding display. She also competed two years later at Maroubra Beach coming 3rd.

Meanwhile Mick travelled to England in 1962, causing quite a stir at customs with his 9'6" 'Ironing board' under his arm. After saving up working as a council lifeguard in Cornwall, he and friends Bob 'Neptune' Walsh and Warren Sullivan left England for a sojourn to the empty and barely surfed waves of Western Europe at the end of summer 1963. A tradition that lives to this day.

A stint glassing for Bilbo and shaping for Bickers in Newquay led to the opening of Maui Surf Shop with my mum Gill in 1965. Stocking own built boards, home made bikinis and shorts (the patterns of which were provided by Mick's mum Mona, who was a seamstress for the Platt's Label). True cottage surf industry.

The surf and the culture of the coast has played an important and significant part of my family's life and continues to do so on various continents, linked by various oceans around the world.