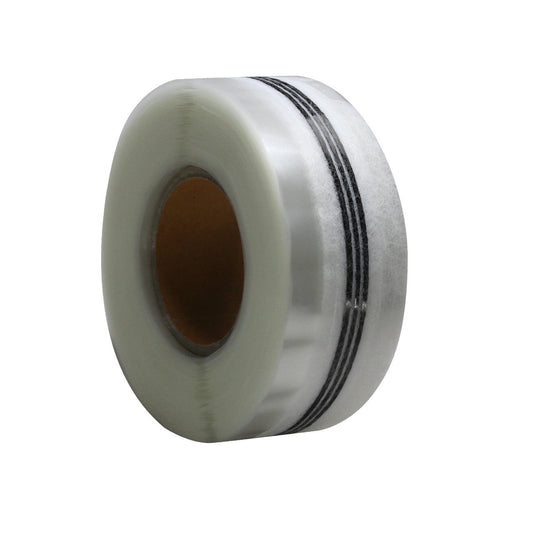 3 Stripe Fused Carbon 9mm
Description

Total Width: 9mm

With from Carbon to Carbon: 9mm

Blend: 3 Carbon Strands & High Strength Backing


Shapers Ultra Fused Carbon – Proudly engineered by Shapers Composites Co.

Shapers Ultra Fused Carbon is a product of using the highest grade carbon tow together with a engineered high strength webbing system, that is designed for bonding and increasing the interlaminar strength between foam and composites. The high strength web backing goes completely transparent when wet out with resin and is compatible with polyester and epoxy resins.

The major benefit we were seeking with Shapers Ultra Fused Carbon was to create a product that could be laminated completely flat in prominent areas such as centre strips down the surfboard, increase tensile strength and not add weight. In other words, Shapers Fused Carbon does not leave a raised edge as some woven tapes and prevents resin build up, sand through and raised lumps in resin work created by some woven products.

The Benefits:
Minimal resin absorption
Highest strength to weight ratio
Flattest carbon reinforcement available
Lightest carbon option available
Easy to cut, prepare and customise different layups
Allows for customisation (slitting into layups for unique designs)
Does not fray like traditional woven fabrics
Lies flat (thinner then A4 Paper)
No extra weight or thickness like traditional woven tapes

Ideal Usage:
Reinforcing Surfboards tensile strength over stringers
Responsive flex and strengthening centre area on surfboard deck or bottom (especially stringless boards)

Please note: Ultra Fused Carbon cannot be curved like woven tapes and is therefore it is optimal for straight layups. For best result simply applies directly between foam and fibreglass. Common practice of applying Shapers Ultra Fused Carbon to foam is to brush a thin layer of resin under the Ultra Fused Carbon or specialised clear adhesive spray.

Shapers Ultra Fused Composites are an exclusive product of Shapers Australia®

 

Resin Compatibility:


Fused Tapes are compatible with both Epoxy and Polyester Resin.
Have you seen these surfboards?